Erotic Thailand Vacation
NOTE THE FOLLOWING NEW THAILAND OFFER:
Introducing the Absolute MasterCard
Now there is one more reason to send clients to our resorts.

From November qualified fly-buy guests in addition to enjoying our warm hospitality would be presented with their own Absolute VIP MasterCard - preloaded with anywhere from US$25 to US$100.

These funds will be added to their account to spend as they wish, whether this is on a excursion, a romantic evening meal or some duty free shopping on the way home!

This prepaid MasterCard is a gift card that can be used anywhere in the world that the debit MasterCard is accepted.

The Absolute MasterCard can also be used to earn points at over 900 merchant an online mall.



Generators Survey
How are guests enjoying their holidays?
Are you receiving enough marketing material?
Booking staff replying to requests quickly?
Not forgetting comments about sales commission!

I would invite you to spend a couple of minutes to complete our new on-line survery that will help us to serve you and your guests better.

Website Up Dates
Owners of Club Absolute would now have a new look website to access following the recent resign carried out by the team at The Escape.

At present the website can be viewed in four languages which include English, Russian, Chinese and German which represents the main nationalities of current Absolute owners. Additional language options shall be added as we continue to expand.

There are several additional features including RSS feed for owners to sign up to so that it more convenient for the to keep up with the latest news and offers.

General site navigation has been improved to make it easier for members to find the information that they are looking for.
Latest Promotions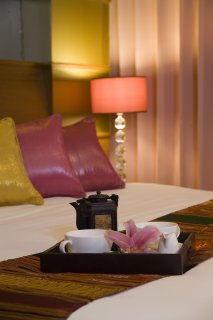 Pattaya - Rental Offer

For the months of September & October we are pleased to offer rental weeks at the Nirvana Place, View Talay Apartments and the Whitehouse Condotel at the special rate of just 199 Euros per week per apartment.

Space would be limited and on a first come first serve basis.
This rate would be valid for rental clients and fly-buy guests looking to extended their stay for an extra week.

Hong Kong - Rental Offer

For the months of September & October we are pleased to offer a special rental rate of just 149 Euros for 3 / 4 nights accommodation in a one bedroom luxury sea view apartment at the Absolute Hong Kong Gold Coast property.

A 7 night stay can also be booked for only 289 Euros whilst an up grade supplement to a two bedroom apartment is available at 149 Euros.

Please quote August promotion when booking to enjoy these discounted rates .

Tenerife - BBQ

For our Tenerife fly-buy offer we have now included a complimentary buffet BBQ complete with evenings entertainment.
This will be held weekly onsite every Wednesday at the Chayofa Country Club for guests of Absolute.
Guests should contact one of our resort representatives upon check-in to obtain their tickets.

Travel News
In todays credit climate it was interesting to read an article recently on the travelmole.com website with the headline Thailand tops UK "best value" holiday poll.

Thailand has emerged as one of the top destinations for UK travellers seeking to make their pounds go further.
In contrast, the plummeting value of the pound will lead to a steep rise in the cost of trips by UK residents to the eurozone this year.

Bulgaria has again emerged as the cheapest European destination, although more expensive than in 2007, followed closely by Turkey.

Cheapest overall destinations in the Barometer were the long haul trio of Thailand, South Africa and Egypt.

At £28.58 for 10 holiday commodities, including drinks and meals out, Thailand weighed in at under a third the cost of the same items in Australia and well under half the average price of the shopping basket across the eurozone.

Helen Warburton, Post Office head of travel, said: "Holidaymakers planning trips further afield this year will get excellent value for money by travelling to long haul destinations.

She added: "Looking forward we believe that holidaymakers will be smarter about where they choose to go."

ONLY 400 Euros ($532) per week!! Hurry space is limited as this limited promotion is selling fast.
Pattaya has truly established itself as one Asia's premier beach resorts, appealing primarily to single visitors in search of an exotic, fun holiday!


Located around 147 km southeast of Bangkok and situated on the golden shoreline of the Siam Gulf. Like other Thai beach resorts, Pattaya has a relaxing tropical ambience and where tourists will experience the warmth of Thai hospitality which is so often one of the fond memories guests have when reflecting on their vacation.
There is plenty to see and do here including some of the finest golfing, fishing and scuba-diving anywhere in Asia. Whether looking for the thrill of amusement parks or the natural splendour of national parks with their lush botanical gardens – Pattaya delivers. However it is after dark when Pattaya really comes alive. The neon signs light up literally hundreds of bars, discos and nightclubs and cabarets which are associated with its world renowned and vibrant nightlife.
Pattaya can be anything that you are looking for in holiday and offers everything you would expect from one of the most popular international beach resorts.
The accommodation, the Whitehouse Condotel is ideally situation in the heart of the action.
These one bedroom apartments are served by a 24 hr reception, golf storage, fine dining and parking. All rooms have high speed unlimited Internet access.
Within the immediate vicinity of the Whitehouse Condotel complex you will find limitless shopping, palm dotted sandy beaches, numerous entertainment venues, golf pro shops and a fantastic array of restaurants and pubs that feature local and international cuisine
---
OR......
REALLY get away on a REALLY low budget in Erotic Thailand
When you travel with 1 Dream Getaway - adult travel, executive travel or family travel - you travel first class to erotic, exotic, tropical locations. An adult vacation, a family vacation, a business getaway to a very different exotic, tropical paradise can be yours for $100!!! It is not Costa Rica, but you can still go scuba diving, golfing, horseback (or elephant back) riding, night clubbing, or just relax on an exotic tropical beach or along side an inviting swimming pool. Your accommodations are first class. Yes, there is a catch---and we will explain it thoroughly below. Many 1 Dream Getaway readers may discover a tropical paradise and a fantastic opportunity they never dreamed existed.
OR: Pay a one-time membership fee of $50 to 1 Dream Getaway, and our associate, Richard Patrick, will make your dreams come true in Pattaya in deluxe accommodations for $450/week. You send us a check, we email you all the contact info, and you're on your way to exotic Thailand.
Click images to enlarge.
After you review the abundant Resorts and activities at www.1dreamgetaway.com and decide to make your dreams come true in Costa Rica with 1 Dream Getaway, we check the dates you have selected for availability. We get to know you and make suggestions, arrangements and reservations for your visit. Our clients coming for adult vacations usually see photos of proposed companions and decide with whom they would like to share their experiences. Families, couples and honeymooners ask abundant questions, and we endeavor to answer every one of them and include photos and pricing. Executives ask about meeting facilities, accommodations, AV equipment and services provided for themselves, their families, their employees or their clients.
The 1 Dream Getaway Thailand offer is not a direct service of 1 Dream Getaway. However, our associates, Richard Patrick and his crew, are equally helpful and professional in seeing into your needs. We all want you to have the time of your life, to tell your friends, and to come back. They do not have a gallery of companions to share with you, however if you tell them you are coming for an adult vacation they will discuss accommodations and schedules designed to make it happen. In like manner, if you are coming with your family or to check out the executive opportunities available in exotic Thailand, Richard will provide you with all of the information necessary to make your stay perfect. There are several options awaiting you in Thailand, and Richard will explain them all and render the photos and information necessary for turning your dreams into realities.
The 1 Dream Getaway Thailand Offer presents a once-in-a-lifetime opportunity for executives, families, couples, groups, single men and single women to discover a new world. There are four locations available in Thailand, and Richard will help you find the right one for you before you arrive. The $100 cost is per-accommodation - not per person. Plan your honeymoon, your adult vacations, or your fantasy golf, fishing, diving, exotic night club, or relaxing beach vacation in a unique setting where, as with 1 Dream Getaway, you have friends waiting for you at the airport when you arrive.
Where can you find a week of this for $100????
From the air, this tropical paradise looks like this.......
.................one of the most exotic locations in the world. If there is a rival to a beautiful Latin woman, it is an exotic Thai girl. If there is a rival to the rich variety found in travel to Costa Rica, it is the enchantment of Thailand.
The most mundane activities become exciting for you, your family, or your exotic companion when you travel to the erotic, exotic, peaceful, friendly paradise of Thailand. Check out this Mini Golf:
Dino Park Mini Golf
or you can REALLY challenge yourself on four of the world's best golf courses:
Loch Palm Golf Club
Laguna Phuket Golf Club
Phuket Country Club
Blue Canyon Country Club
Thai restaurants are beautiful, exotic, and provide a great variety of cuisines..............
Baan Rim Pa Piano Bar and Restaurant
Amarin Dinner Cruise
The shows are fantastic ............
www.phuket-fanatasea.com
Phuket Simon Cabaret
The quality and variety of night life is amazing.....................
Patong Nightlife, Bars, and Discos Information
Beer Bars (Lady Bars) and Bars Guide
Thailand Girls A-Go-Go Erotic Cabaret
Soi Eric Nightlife, Entertainment, and Shopping
About Thailand - Nightlife Entertainment at Soi Cowboy, Nana Plaza, & PatPong
Phuket Nightlife and Bars in Thailand
Get the "full treatment" at a luxurious spa............
Anda Spa
Tarntara Spa
The Phuket Hideaway Day Spa
Enjoy the tropical waters, scuba diving or canoing..........
Andaman Divers - Explore the Andaman Sea
John Gray's Sea Canoe - Seakayaking in Thailand
Interested????????
Ok, here is what you have to do to receive your week in the tropical, exciting paradise of Thailand for a total cost of $100:
1. Contact AJ Seaman to make arrangements for your payment in the amount of $100 with your Visa, MC, Discover, or American Express card.
2. 1 Dream Getaway will give you a code number, and put you in touch with our associates on-site in Phuket, Thailand. Our friend, Richard Patrick, or one of his associates have the knowledge and expertise to answer all of your questions. You will only have to give them your flight information, so they can meet you at the airport.
What happens next?
You will be asked to guarantee that you are at least 27 years of age, and have an income in excess of $25,000 per year. Before your reservations are confirmed, you must inform them of your airline reservations. There is also a form for you to complete. During your stay, you will be offered the opportunity to join a Private Club and to own a little piece of paradise. The presentation takes three-to-four hours, and you are under no obligation to purchase anything, although you will find the offer VERY appealing.
As far as we know for certain, life only comes to you once. Don't let it pass you by!
Find a world you never imagined exists. Find love or lust. Reward your top executives for a job well done. Show your family how much you care. Show your clients how much their loyalty means to you. Is that worth $100? Here is another opportunity to turn your dreams into realities with 1 Dream Getaway.
CLICK HERE TO SHARE OUR MAY, 2007 BIRTHDAY PARTY
May 2008 photos are on their way (actually, they're here!)
---
TRAVEL LINKS LINKS2 LINKS3 LINKS 4 LINKS 5
---
CLICK HERE for a free download of the song "BONITA TICA". This was my experience walking an exotic beach in Costa Rica. We want you to have the same luck....
Alan Seaman
Home (in Costa Rica) | Thailand | Companions | Packages
About Us | Contact Us | Testimonials l CLIENT INFORMATION FORM
COSTA RICA NEWS Travel Tips for Costa Rica
COSTA RICA REAL ESTATE FOR SALE
For current adult vacation companion escorts, please click below:
PAGE 1 adult vacation escorts PAGE 2 adult vacation escorts PAGE 3 adult vacation escorts
PAGE 4 adult vacation escorts PAGE 5 adult vacation escorts PAGE 6 adult vacation escorts
TRAVEL LINKS LINKS2 LINKS3 LINKS 4 LINKS 5
Copyright © 2002 Dream Getaway
Web Design and Hosting provided by Heather's Web Design